Our service is one of your tools. It is not unique and does not solve such problems that can not be solved in other ways. And you have the right to choose how to achieve your goals.
Let's try to define your goals. No matter who you are: a reasonable entrepreneur, a creative developer, or marketer. We want to believe that you love your company and strive for its rapid growth and popularity.
Automation accelerates and facilitates work. We do so that the administrator makes transactions in a pair clicks. And did not talk endlessly on the phone, telling the same thing.
The client calls, asks:
- And when do you have free this week?
How can he just explain this schedule?
Save time to spend on improving services, training or leisure.
Friendly, relaxed administrator, satisfied with his work and training.
Can you automate everything yourself? Yes you can, but laborious, longer and more expensive. 1-2 years of development of a small team and budget - from 50-60 thousand dollars.
Check the result inexpensively and now.
In the future, you can always go to your decision. There are no obligations before us.
Booking by the customer takes a couple of minutes. Try it for yourself, how long will it take for you?
The client knows that now you have an online booking and you openly, honestly declare free time and prices on the Internet. He can reserve and pay at any time of the day. How will this affect his attitude to your brand?
We make our product yours, and you invest in the development of your name. The widget does not have the inscription "Made with Bukza". The booking form completely changes with simple CSS, and becomes part of your website. Your customers understand that it was you who created the reservation system for their convenience. They appreciate it, recommend you to friends.
Make a new step in the development of the company.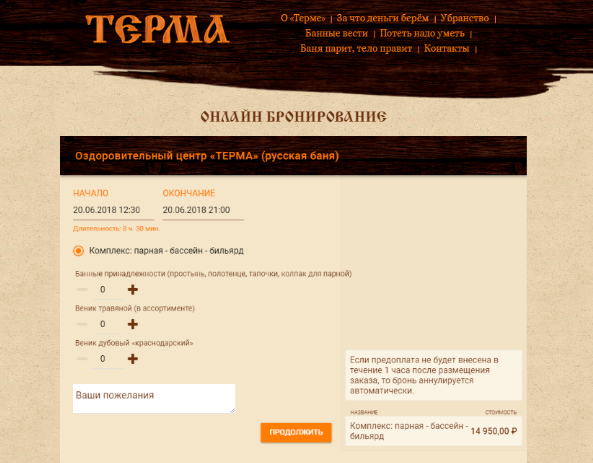 Photos, phone number and prices are already on the web resources: maps, search engines and aggregators. For this, the client has no reason to go to your site. But everything changes, if the site is always up-to-date information about availability and cost. There is an opportunity to book - there is a reason to open the site. In due course visited sites rise higher in search engines, which means even more visitors.
Justify the presence of the site and make it more popular.