You already have a resource with the work rule. For example, a 24 hour hourly rental.
You must create a new work rule to determine the discount time. Click +.
Enter a Name, select Color, and click the Running time tab.
Click + to add a period. Enter the start and end time of the period. In our case, we entered from 2:00 PM to 6:00 PM. If the discount will be valid regularly, click on Recurrence period.
Select the repetition rate. For example, every day. Click OK
Click the Rental intervals tab. Selected interval. In our case, hourly. Save the work rule.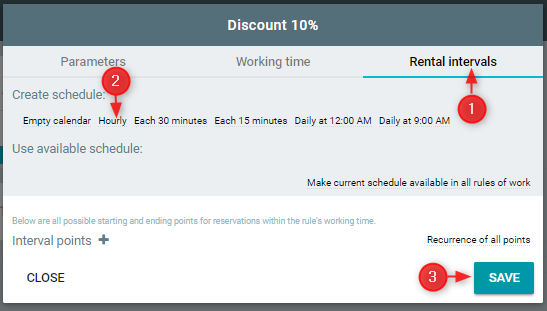 The created work rule has the lowest priority. So it overlaps with the old rules. To change the priority, click the sort icon.
Drag the rule to the right and save.
Create a pricing component for a discount. Click +.
Enter the title.
Turn off the component so that it does not work in all rules. We will include it only in our new rule.
Enter the formula '-10' and the percentages. Save it.
Now click on the intersection of the new rule and component.
Include the price component in this rule and save.
The discount adjustment has been completed. The configuration looks like this:
Customer booking calendar: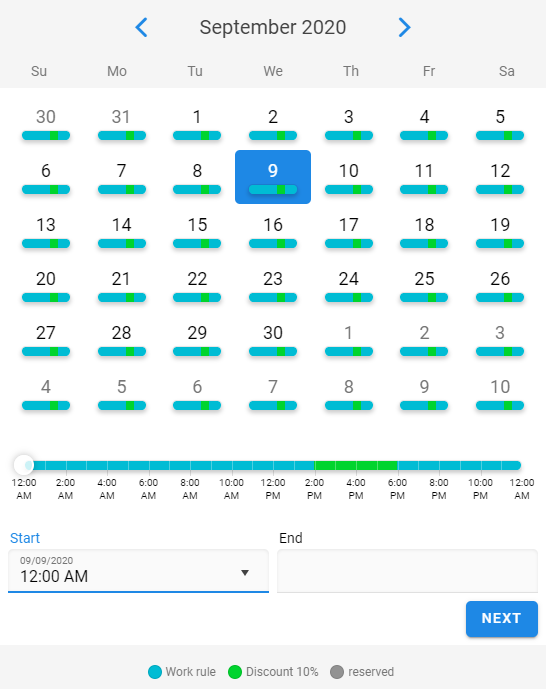 Discount applied:
Discount for the whole amount is valid even if booked at the intersection of the rules. For example, from 10:00 AM to 3:00 PM.
You can make sure that the discount is valid only within the rule. At the intersections to operate it will not. To do this, click on the first cell of the component to go to its settings. Uncheck the Apply even if there are missing rental intervals and save.
This example can be seen in action.